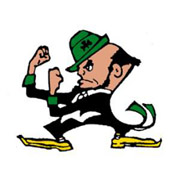 One of my favorite new Pokeratizens has been Irish Mike, who is trying to start an Irish poker forum (where the place they play happens to be called "The Lodge"). Met him at the latest Vegas blogger gathering, and we got on quite well … particularly after I ordered an expensive scotch on his tab and returned the favor with a domestic beer on mine. It's been a pleasure to see his IP address logged with regularity.
But while doing some research on retaliatory online vitriol recently, I stumbled across one of my first pieces of poker writing — penned before Pokerati (b. 4/20/04) even existed — and lo and behold its none other than my new good blarney friend engaging subsequent Dan-bashing!
Date: 11 Jan 2004 05:53:16
From: Irish Mike
Subject: Re: Clonie Gowen – Poker Watch Be Still My Running Hearts

" > pulling me aside later to tell me how much potential she thought I had.
> "You remind me of Devilfish," she whispered."

Well bucko, she told me I reminded her of Robert Redford, only way smarter. She said I was the greatest poker player she had ever seen. She whispered that if I gave her the word she would leave her husband and run away with me. Sadly, I had to turn the poor lass down because Brittany Spears just dumped her new husband and proposed to me. Oh, I almost forgot – then I hit the megabucks lottery for seventy million and I'm going to use the money to save Binion's Horseshoe in Vegas.

Irish Mike

"I stood on the Dublin docks and my future was uncertain, in a place where fortunes are won and lost on the dealing of a hand"
Wow. Where's the love?
ALT HED: "Bucko"?