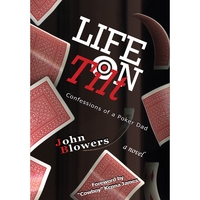 I don't really get into poker fiction too much — the real-life stories are sordid/compelling enough. But I just stumbled across this novel by John Blowers — Life on Tilt: Confessions of a Poker Dad — and I gotta say, seems kinda intriguing.
Also like the fact that it is available as a downloadable audio book … because you know, actual reading is hard. Kenna James does some of the reading.
I won't waste your time trying to tell you what it's all about without having even read/listened to it … but as much as Blowers's photo frightens me (he looks like The Butler), the first 20 seconds of his promotional vid makes me think it's gotta be better than Lucky You.