The long wait is almost over as the November Nine take their place at the final table Saturday afternoon. The following look at stack sizes, seat position, blind levels, M, etc. is part of a much larger post I made over at 2+2 regarding the final table, the information taken from the WSOP November Nine Media Guide:
Final Table Details
1 – Darvin Moon 58,930,000
2 – James Akenhead 6,800,000
3 – Phil Ivey 9,765,000
4 – Kevin Schaffel 12,390,000
5 – Steven Begleiter 29,885,000
6 – Eric Buchman 34,800,000
7 – Joseph Cada 13,215,000
8 – Antoine Saout 9,500,000
9 – Jeff Shulman 19,580,000
7:16 remains in level 33 (120/240/30k blinds), level 34 will have blinds of 150/300/40k. When play resumes, Moon starts with the button. Blind levels remain 2 hours long, with breaks at the end of each level, lasting 20 minutes (except at the end of level 33). Future blind levels:
Level 35 – 200/400/50k
Level 36 – 250/500/50k
Level 37 – 300/600/75k
Level 38 – 400/800/100k
Level 39 – 500/1m/150k
Level 40 – 600/1.2m/200k
For those who want to see a breakdown of the final table by M and BB's, thanks to CPOner (from a 2+2 thread) for this graphic: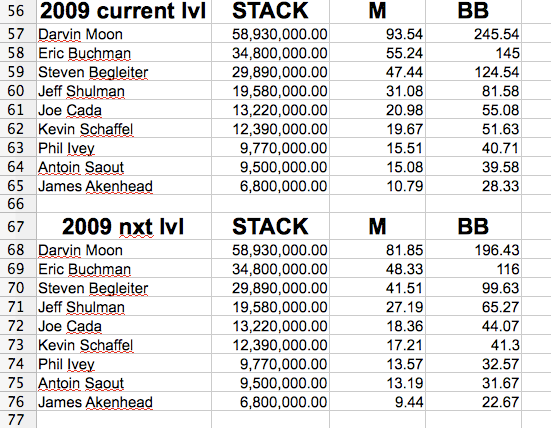 Also planned for Saturday: Bracelet ceremony for Barry Shulman winning the WSOP Europe Main Event and the ceremony for Mike Sexton being inducted into the Poker Hall of Fame.
Updated Payouts:
1st $8,547,042
2nd $5,182,928
3rd $3,479,670
4th $2,502,890
5th $1,953,452
6th $1,587,160
7th $1,404,014
8th $1,300,231
9th $1,263,602
The final table is scheduled to start at 12 noon Pacific time on Saturday, November 7 and will play down to heads-up. Heads-up play will resume at 10pm PT on Monday, November 9. ESPN coverage will begin at 9pm ET on Tuesday, November 10 and plans to go past 11pm to give heads-up play more coverage than last year.