It's no secret I've been nosing around in Full Tilt's business lately. They are the ones who, after all, practically built the poker world as we currently know it — and helped create an industry that so many of us rely on for food. But considering what these good people potentially face and how it could impact us all, I couldn't help but start cashing in favors for information from some of the highest ranking, super-reliable people I know.
Alas … still haven't gotten the details I'm seeking about Howard Lederer and Phil Ivey's meeting with Barack Obama in February — what did they say? what did he say? — but perhaps as a consolation prize, my source told me he had one piece of info that he/she could confirm with "100 percent" certainty.
OK, I'm listening …
"Viktor Blom is Isildur."
Oh, that's it? I mean thanks.
"Yes. 100 percent."
He's not under investigation or anything, is he? Got a DWI maybe, or how 'bout an illicit rendezvous with Guy Laliberte and the Swedish women's curling team … that would all be good for traffic.
"Nope. Just playing high-stakes no-limit hold'em and PLO."
Everybody's been saying for a couple months that it was a given Viktor Blom and Isildur1 were one in the same. Seemed plausible enough, but I didn't really know, and I'm pretty sure 95 percent of the people saying as much didn't really know either — they were just repeating what they heard from someone else who said they heard from someone else who said they knew.
I didn't really care, because I actually liked him better as a mystery man. And figuring how easy it is for misinformation and spin to spread through the poker internet, I was willing to bet against Isildur1 being Viktor Blom if you gave me 3:1 odds. But no longer. I personally now believe 98.9 99.8 percent that Isildur's alterego could run into trouble with Swedish tax authorities has a listing in the Hendon Mob database.
Sorry it took so long for me to come around … maybe I was just in denial because I really was hoping to see the mystery continue for years to come: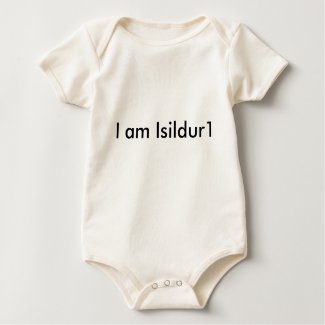 Baby Isildur1
by
Pokerati
Design
custom shirts
at zazzle.com