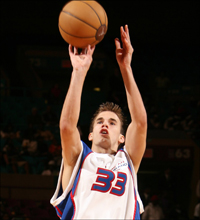 Online poker found itself in another brouhaha in the non-poker press last week — in Florida, where UF's star point guard Nick Calathes (and prospective NBA first-round draft pick) was under investigation for NCAA violations over a $600 gambling debt. The investigation found he did indeed lose money playing online poker, but the NCAA only penalizes athletes who gamble on sports … or commit criminal acts. So Calathes is in the clear, and online poker, by the transitive property, is declared an acceptable recreational activity fully within the law. Yay-win! Go team.
It probably didn't help, however, that one of the dudes hosting basketballer home games was a former walk-on who previously had been busted for allegedly hooking up the team and others with weed. (Though a friend with weed is a friend indeed…) probably not the kinda guy you want handling money transfers online.
An online-casino-biz response to situation and the suggestion on how his industry needs to work openly with the NCAA.
Alligator Army laments the nonsense online poker hubbub distracting them from the b-ball at hand.